Learn how WordPress defeated it's enemies through its superior CMS system, and how YOU can benefit from it.
(A brief overview of WordPress' CMS features for business sites)
Flexibility: A novice WordPress user can get a site live in no time.
Easy-To-Add Content: Almost anyone with a quick tutorial can add new content (posts or pages) to your business' WordPress site. You are never tied to a single developer — you can maintain the site internally.
Great-Looking WordPress Themes: WordPress has many options when it comes to themes. A theme can be installed and help you get more than half way done with the site's aesthetics and design elements.
Plugin Functionality: WordPress' functionality can be extended by installing plugins. A plugin is a small program or set of programs written to enhance WordPress. Very powerful stuff.
SEO Friendly: There are many plugins to help you get your basic SEO set up. With little knowledge and expertise, you can have your site's SEO working for you with no code manipulation. Trust me — this is important to your business.
Community Support: Quote possibility the largest and most comprehensive helpdesk community out there.
Why Sun Tzu would ally with WordPress in battle
When it comes to websites for businesses it can turn into a pretty hair pulling out moment. Lucky for you, I am about to introduce you to the world's TOP website CMS. What's a CMS? A CMS is a Content Management System, meaning it a literal ALL IN ONE control panel for your website. Through the constantly updated and constantly secured platform WP has produced over the years there is no question that you should only put your precise website in the hands of the best, WordPress. Now there's always been the debate between WordPress vs Static sites, other CMS platforms like Joomla, Weebly, Drupal and basic HTML sites. Forget all of them, WordPress has them beat in every single category you can conjure up, not to mention the UX Design of the WordPress CMS is quite simply perfect even a beginner can figure it out within minutes. In fact the NEW WP update "4.7" specifically made the platform easier for businesses to create their sites. You might also be tempted by Satan to go the route of the "heavyweight paid advertising" website companies Squarespace and Wix.com, do not be fooled by these companies, what sounds too good to be true, usually is as in this case…IT IS. Stay away from Squarespace or Wix at all costs, no matter how many times you see or hear their ads on media platforms they keep heavy restrictions on your design and are second-rate low agency level designs with hardly any customization features.
Ever wondered why you NEVER hear a WordPress advert compared to Squarespace or Wix? Because they don't need it, they have the most powerful advertising of all "word of mouth".

It's never to late to start with WordPress
As with many businesses almost all of them are updating or getting their first websites up and running these days, ie expanding their horizons by exploiting their products and services to the millions of online users 24/7. Unless you have a Computer Programming degree, there is no other option than WordPress to set up a professional caliber, secure, beautiful and engaging website. Don't boggle your mind with the dozens of choices of CMS's or "Website Builders", WordPress has them all beat like I said before. The reason WordPress is the most popular website platform in the world at the moment is not only because its used by Forbes 500 companies to giant media outlets, but the key to their success is their brand and name. WordPress prides itself on constant support, 24/7 live support and entire forum-like website devoted to any and all issues you might have with the platform. WordPress' USP (Unique Selling Point) is the same as their success, their brand. For almost a decade WordPress has been efficiently running websites like an artificially enhanced robot with virtually zero bugs or security flaws or loopholes. TechCrunch, the New Yorker & SONY are just a few of the big name brands that made the right decision to choose WordPress as their CMS.
Another feature of WordPress is their "plugins", of which they have close to 50,000 of them from major brands such as Google and Salesforce. The plugin aspect of WordPress is part of their genius, this allows you to implement almost anything you can think of into your site with a few clicks, then you can go tell your friends and co-workers you just mastered coding and added a cool new feature to your site. The limits of WordPress plugins is literally endless. Want to turn your site into an online store, start selling some of your products over the internet? Just download an eCommerce plugin. Want to collect emails of your clients and users? Just download a plugin for that. NOW choosing which plugins are RIGHT for YOUR site is the difficult part but be sure to check the "developer" of the plugin, their reputation and make sure to read all reviews before downloading and activating it on your site. If you think all of that is great I'm about to blow your mind even more…
WordPress is 100% FULLY FREE and 100% OPEN SOURCE.
Now lets be serious its NOT completely free, well the CMS itself is, but you still need to pay for your hosting which can be basic "shared hosting" or specially tailored "wordpress hosting" services web hosting companies are now offering which costs quite a bit more and has very low limits on bandwidth and storage options but increases the speed of your site by large margins. Need your site to be able to work mobile, tablets and PC's alike? Don't worry about it, WordPress uses some dark website sorcery called "responsive design" that resizes your site when viewed on each device for optimal user experience.
Learning how to utilize WordPress to grow your business and defeat your enemies on the digital battlefield.

SO you have officially made the right choice turned on your smart hat and decided on WordPress. Congrats, your on your first step towards total online domination. Once you have your theme installed and all your plugins activated, your site is now ready! LIVE! Open to the public! This can be scary at first…."What will people think?"……"Will they like it?"…….Don't be concerned with any of that nonsense. The main purpose of your site should be: BUSINESS GROWTH, CONVERSION RATE OPTIMIZATION, LEAD GENERATION, MARKETING & SALES, all of which can be accomplished by a few clicks of the mouse and the right combination of plugins.
So here a simple battle plan for your business to conquer your competitors and generate higher ROI.
Automated Site Optimization aka "Plugins" from SEO to eCommerce.
Getting organic visitors to your site is the best way to gain traction online. This is done through SEO, optimizing your website so it shows up on search results for keywords related to your industry. When done properly this will bring you the highest quality free traffic you could ever ask for. Now SEO takes time and a lot of effort. You need to produce content, blog posts, etc on a regular basis and they NEED TO BE GOOD. Google is starting to recognize not only that they rule the world but that "useful, informative content" should be ranked higher than useless keyword soaked articles so keep that in mind when writing content on your site. And this is where WordPress steps in, with built in RSS feeds, SEO friendly URL's and the clean easy code that Google's web crawlers love.
If you are in a niche business or your competitors lack the wisdom that you do, then you can pretty much run the gambit ranking for all your industry related keywords you want. Sounds hard? Well its not, in fact this can be done with a few clicks of a mouse and a few select plugins such as the "Google XML Sitemap Generator", "All in ONE SEO" and various others such as image optimization plugins. The GREAT thing about these plugins is the fact you literally have to do NOTHING, I mean who doesn't like doing nothing? Simply install them, activate them and follow their simple step by step directions and you will create a fully SEO optimized site just like that…allowing the big boys like Google, Yahoo, Bing to index your site rapidly and correctly. On last feature plugin that drives conversions is the  Facebook Conversion Pixel plugin. In 2016, Facebook transitioned to an updated version of the Custom Audience and Conversion pixels. They are now combined into one base pixel code that is meant to be inserted on all pages of a website, with optional Standard Events being added to the base code on specific pages to track specific events. This new format will drastically increase your conversion tracking, optimization and remarketing efforts.
Another great feature of WordPress is their powerful yet simple integration of Landing Pages and Exit Page features. Just as they sound a Landing Page is the first page a new user will see when they enter your site and an Exit Page is the more important one that prompts a user when leaving your site to re-target them back your site or fill out an opt-in form, such as a newsletter subscription. If your site is truly optimized for user engagement and provides useful content that person who was about to be a metric on your "bounce rate" could easily turn into a new subscriber. Below are a list of some of the top Exit Pop-Up plugins. I personally endorse OptinMonster as I have used them in the past with great effect and well worth the money but if you are on a budget SumoMe is a must have. You will be amazed by how a simple plugin like these can turn a "bouncer" into a new lead, subscirber, client or even partnership. Take the time to design and integrate Opt-In forms and Call-to-Action buttons to provide higher conversions.
Icegram
SumoMe
PopupAlly
Pop-Up CC. Pop-Up CC is available as a free plugin, with a six email opt-in form templates to choose from.
PopUp Pro. Price: from $19.
OptinMonster. Price: from $49
Bloom. Price: from $89
Thrive Leads. Price: from $59
* See the full list here with detailed descriptions.*
Moving onto eCommerce and selling your products on your site. Well for that there is only one answer; WooCommerce. The god given cosmic game changing eCommerce plugin that allows you to sell anything, in a beautifully designed way. Woo integrates seamlessly into WP and is the world's#1 eCommerce solution that gives both store owners and developers complete control. If you aren't selling online, then your losing the war. Sun Tzu would say shame on you and turn his back. The vast amount of money that has been poured into the online eCommerce field in the past year is staggering and even if you think your products are too "niche" or "small" think again. As if WooCommerce alone wasn't enough, there are some essential plugins to optimize it for it's full potential such as a "Countdown Timer" and "Left Over Follow Ups". Basically with these two plugins combined with WooCommerce will provide and incentive the buyer to purchase before the time limit. By putting a timer on certain product prices or deals it engages the online consumer with your brand creating a psychosocially connection that pushes them to buy before the timer runs out. Now the email options provided by WooCommerce are the real key to success with the platform. One of my personal favorites is the "Requset After Purchase" feature which allows you send a buyer an email asking them for feedback, this can be incredibly useful for future analytics and also a nice gesture to a paying customer. Another absolute Woo Plugin is the "Cart Abandonment Follow Up" which if someone has put an item/s in their cart but didn't purchase, you should find out why. These plugins will then send an email follow up asking for their feedback and in incognito try to re-target the consumer into buying it. By showing the consumer this instant feedback and showing them the product again instills a culture of buying into the consumer and these plugins will greatly increase your profits if well used.
Here is how to create a "Cart Abandonment Follow Up Email through WooCommerce (through WP)
Add your Follow-up name and create your Email Subject. Then add your email content.
Once you have added your email content, and the variables you wish to use, set up the after added to cart trigger. Go to Triggers, and set your delay and choose the appropriate trigger. Please note that new variables will appear for use, and can be referenced here, for use on abandoned cart emails.
Set up triggers↑ Back to Top
You can enable the abandoned cart emails to be triggered for:
All products – any product that is added to the cart will trigger this specific email
Specific category – any product from that specific that is added to the cart will trigger this email
Specific product – the email will only trigger is this specific product is added to the cart
These options will allow you to create a diverse set of follow-up emails across all the products you sell.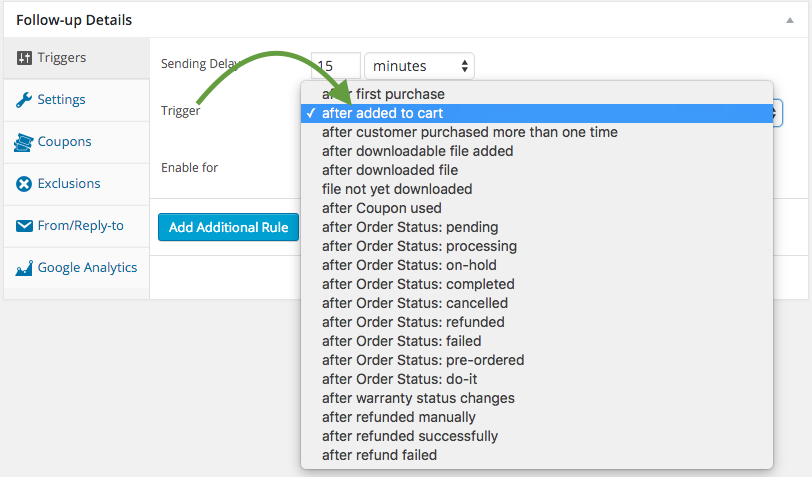 Only send to abandoned carts↑ Back to Top
Now you want to make sure that this email is only sent to people who did abandon their cart, but not to those who purchased the product. In order to do that, go to: Settings > Remove on status change and enable this feature.

WordPress, Redefining the word "easy" when it comes to websites
No other website CMS platform is as easy to use or navigate as WordPress. Because the technology is so simple, time spent on formatting is greatly reduced leaving you more time to other things besides fiddling around with your site. In fact sometimes its too easy my one year old son takes a hold of my laptop and starts typing blog posts. WP Platform updates itself regularly mostly due to making sure they are up to date on the newest malware and all security threats making WP one of the most secure platforms in the world. WP also makes sure you are updated with latest version of WordPress as they download and install the newest updates the second they come out completely automated. WordPress requires ZERO coding knowledge and ZERO FTP usage, everything can be done right from the online dashboard, even editing your CSS and PHP files if you find yourself getting deeper and exploring around. Being a self-contained ecosystem there is no more need of HTML software like Adobe Dreamweaver to create beautiful digital content, it can all be done through WordPress' Visual Editor which shows you exactly how your post is going to look when you click "publish". WordPress' intuitive interface even allows you to post on the go, yeah thats right, you can post to your website from your mobile device, thats about as cool as yeti eatin' frozen spaghetti. WordPress also comes standard with a built in "blog" in contrast to many other platforms instantly adding your "new posts" right to your blog page which you can sync to your Facebook, LinkedIn, Google+ pages to streamline all your content across all social channels. With your new site you will no longer need the help of that young "millennial" kid who works in the shop to help you change something, through WP's interface you can customize almost any aspect of your site with just the clicking of your mouse. WordPress is also the #1 platform in the world when it comes to scale, WordPress grows as your business grows almost as a twin. The more clients you add, the more content you publish, the more bandwidth you produce, more portfolio additions, more images…no problem, WordPress will not slow down or "lag" due to an increase in scalability. Another great feature of WordPress for your business is their "Users" function, which is under "Settings". Here you can add anyone you want to have access to your site by simply creating a username and password then setting their "privileges" such as "editor", "moderator", "admin", allowing you to set different roles for each of your team members based on their skills and needs.
EASY Integration with the worlds leading online brands, Streamline the world's most powerful services on WordPress
WordPress is able to integrate with almost any other SaaS or software platform out there in the market. Wordpress as you have already learned is an awesome content management system for websites of all shapes and sizes. One of the common misconceptions about WordPress is that because of its open source framework, it may not be good enough for big brands. To disprove this myth, here is a list of some of the most notable big name brands that are using WordPress on their websites. Maybe you heard of them? Ebay, MTV, Best Buy, Xerox, Fortune and even Google Ventures website itself. The reason these large enterprise level companies choose WordPress is the same reason you should, its fully complete compatible integration
with the worlds best third party programs. Want to capture your audience and start list building? Download the MailChimp, GetResponse, InfusionSoft plugin and activate it, thats it. Already working with other platforms such as CRM's like Salesforce, Marketo or HubSpot? Again no issues, a simple one-click installation and activation of said plugin will import your data from your entire CRM platform then add it onto your WP dashboard. WordPress also easily integrates with Paypal and Stripe allowing you to sell, manage invoices and your companies account right through the Dashboard. The ability to easily integrate almost all software into WordPress is a huge benefit for businesses as it eliminates the lag time between different programs, no more wasting time switching between programs or remember passwords or exporting files. Simply find the plugin for the software you use and activate it on your site and presto! now your site is an all in one army equipped with the best arsenal out there.
Save
Save
Save
Save
Save
Save
Save
Save
Save